.cz and 0.2.4.e164.arpa line WHOIS manual
Either a host name or an IP address may be specified. By clicking "Post Your Answer", you acknowledge that you have read our updated terms of service , privacy policy and cookie policy , and that your continued use of the website is subject to these policies.
RIPE Whois Server version db-wg — RIPE Network Coordination Centre
More information about Get Support. Global s Focus search bar? If no guess can be made it will connect to whois. The constructor returns undef on failure. These flags require no arguments, they simply set the flag on. More information about Analyse.
Net::Whois::RIPE - a pure-Perl implementation of the RIPE Database client. - lamomiedesign.com
You could use this command for your request:. Object object. Accepts an optional keepalive, always return the current keepalive. I still don't have measurements, but that was the idea behind adopting an Iterator wrapping the IO:: Mei Mei 3, 7 37 We're a not-for-profit membership association, a Regional Internet Registry and the secretariat for the RIPE community supporting the Internet through technical coordination. Accepts an optional hostname, always return the current hostname.
Bring up this help dialog GitHub g p Go to pull requests g i go to github issues only if github is preferred repository. Fork of the WhoisClient. As this is the initial alpha release, there is still some work to do in terms of testing. This was common practice 10 years ago, when the module was initially written.
The Whois server can block a client's IP as explained here. When querying a non-standard server, command line options which are not to be interpreted by the client should always follow the -- separator which marks the beginning of the query string.
Niall Donegan Niall Donegan 3, 15 Post Your Answer Discard By clicking "Post Your Answer", you acknowledge that you have read our updated terms of service , privacy policy and cookie policy , and that your continued use of the website is subject to these policies.
FreeBSD Manual Pages
Returns a new Net:: When set to true , prevents recursion into queried objects for personal information.
More information about Publications. More information about Participate. Current Interface is not Backwards-Compatible I plan to implement a drop-in replacement to the old interface soon, as an extension to this module.
Net/Whois/RIPE - RTIR Documentation - Best Practical
Mailing List Search. There's little utility to enable this option, as the objects will be parsed and returned on a much reasonable format most of the time. LIR Portal.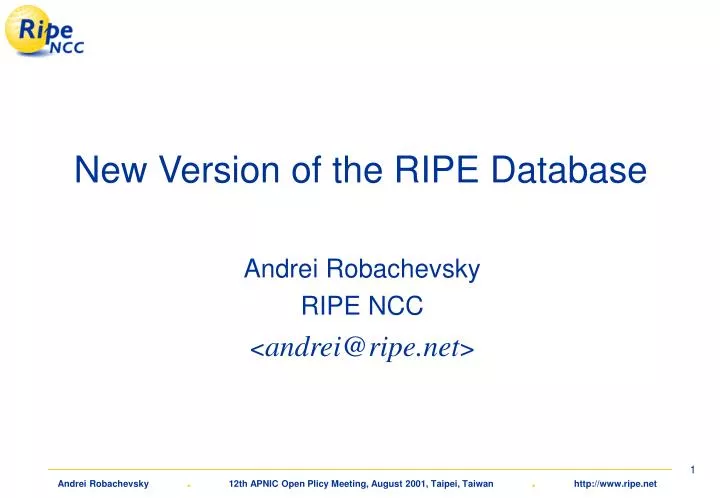 Of course, comments are more than welcome. Memory Footprint I had the intention of reducing the memory footprint of this module when doing heavy-lifting. Skip to content. Examples IPv4: